As we get ready for the final episode of season 10, we will be sharing some X-Files themed recipes that will help make your viewing party out of this world!
Wow (or perhaps repulse) your guests with this series of specimen-themed drinks and treats that taste waaaay better than they look. Your guests will be amazed that these aren't only for display.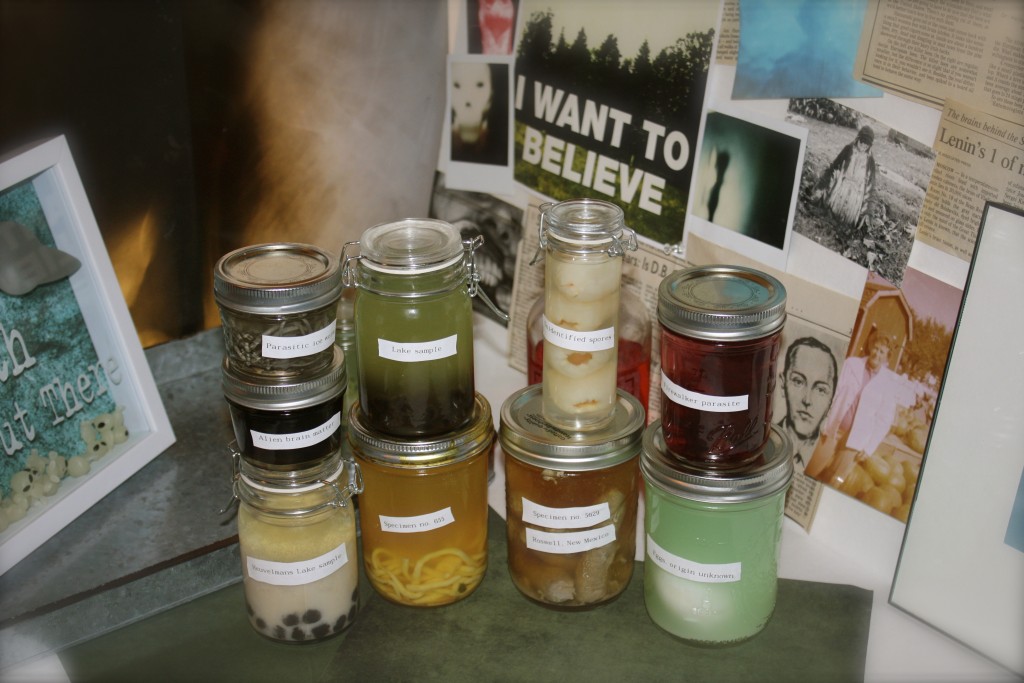 Taking inspiration from this post by Evil Mad Scientist we scoured the grocery store for ideas and inspiration.
You will need:
A selection of jars and other sealed glass containers.
A selection of canned fruits, broths, noodles, teas, etc. depending on what you want to combine.
Paper labels
Since we are all fans of bubble tea, our first thought was that we needed some tapioca pearls. We're lucky enough to frequent a fabulous place called ViVi Bubble Tea and they were nice enough to give us a big scoop of already softened large, black pearls.
You can make your own by cooking 1 1/2 cups large black tapioca in boiling water for about 6 minutes. Then turn off heat, cover and let sit for 30 minutes. Make simple syrup by bringing a cup each of water and sugar to a boil.  Once all the sugar is dissolved, transfer the syrup to a bowl. Then drain the tapioca pearls and soak them in the simple syrup.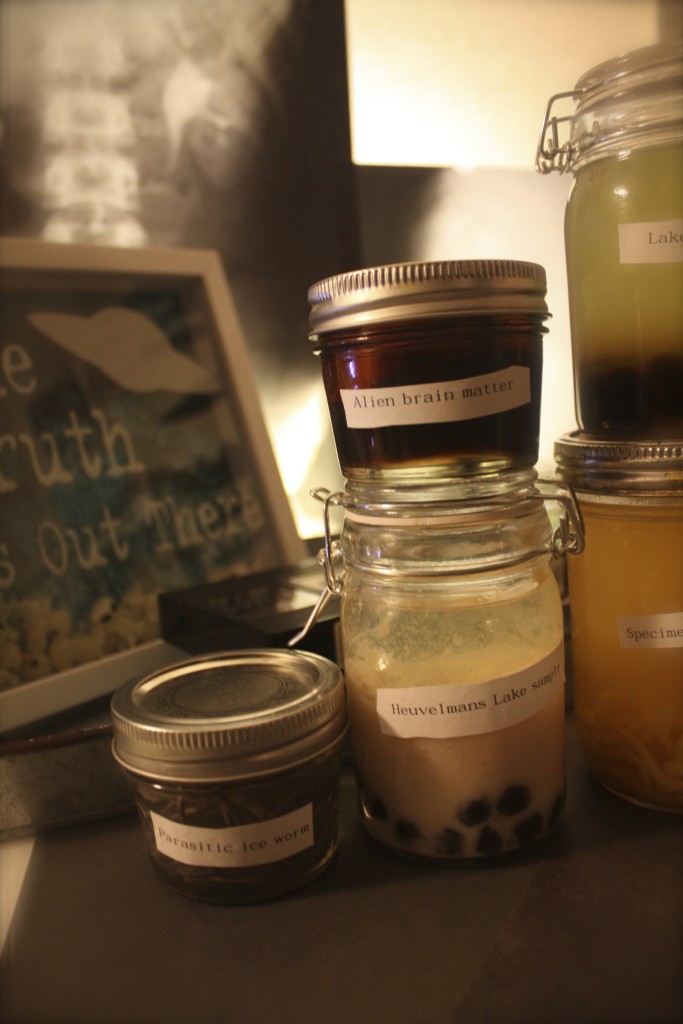 For our specimens, we added the pearls to cucumber flavored Gatorade, and our homemade lychee tea.
Lychee tea
Ingredients
Black or green tea sweetened or unsweetened, your choice
Canned lychees in syrup
Sweetened condensed milk
Prepared tapioca pearls, strained from syrup
Ice if desired
Add the prepared tapioca pearls to the bottom of your jars and pour the tea over it. Add some of the lychee syrup and condensed sweetened milk to taste and ice if desired.  Attach the specimen label of your choice with a dab of glue.
---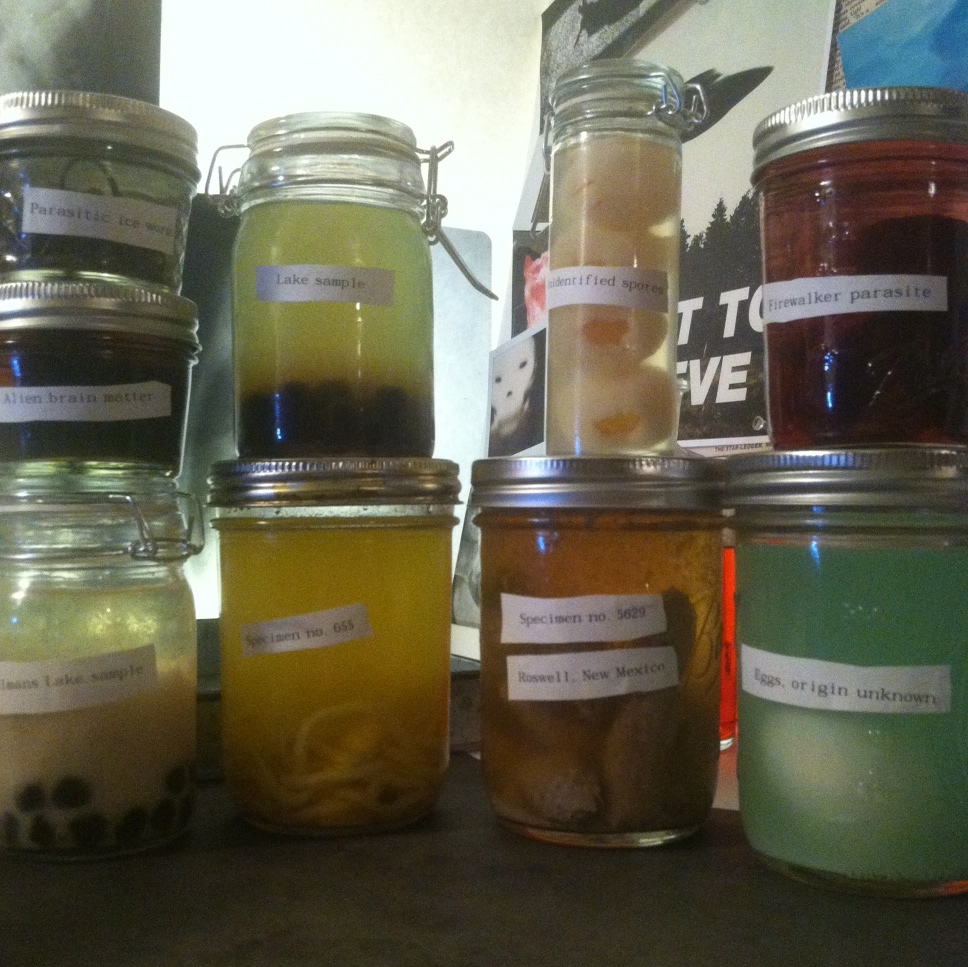 ---
For the other jars, we used: canned plums in some of their syrup, the remaining lychees in their syrup, canned herbal jelly from Asian market also in tea, chicken noodle soup we bought pre-made from the grocery store, black bean noodles sautéed with garlic, olive oil, basil and red pepper and chicken sausage in chicken broth.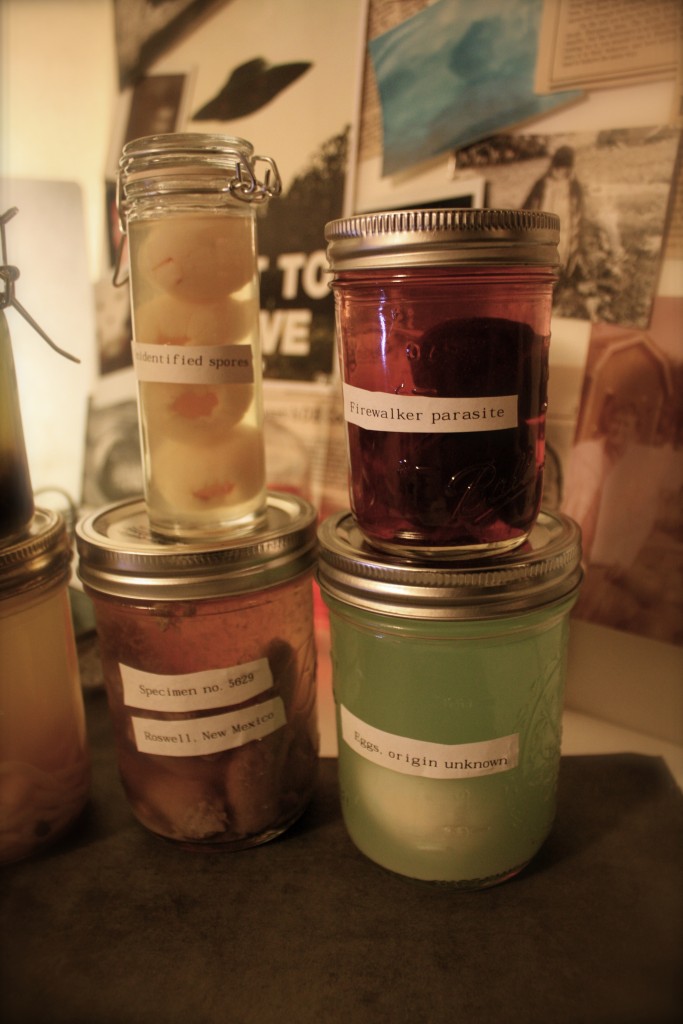 ---
From here the only limit is your imagination.  Any number of different canned fruits, pickled vegetables, soups and drinks can be combined for a colorful array of edible treats for your more adventurous guests to try.