"It seems to me that the best relationships, the ones that last, are frequently the ones that are rooted in friendship. You know, one day you look at the person and you see something more than you did the night before. Like a switch has been flicked somewhere. And the person who was just a friend is suddenly the only person you can ever imagine yourself with."

Scully from: The Rain King (1999) season 8, episode 6 of the X-files
---
This Valentine's Day, give the gift that says: I would go half way around the world, brave a frozen tundra and fight a vast government conspiracy just to be with you.  Well actually- to rescue you from a tube of alien goo, but still…
Of all the great love stories- Mulder and Scully are one of the best!
Who needs Romeo and Juliet, when you can have Fox and Dana- a couple so deeply in love, they don't need to use fake, gushy pet names to express it.  Hell… they don't even need to use actual first names!
Yet, through all the years, dangers… and the occasional coma- is there any doubt of their ever-lasting love and devotion to each other?
For the Mulder or Scully in your life this Valentine's Day, we suggest one (or more) of these X-files themed cupcake jars.
Easy to love and even easier to make.
---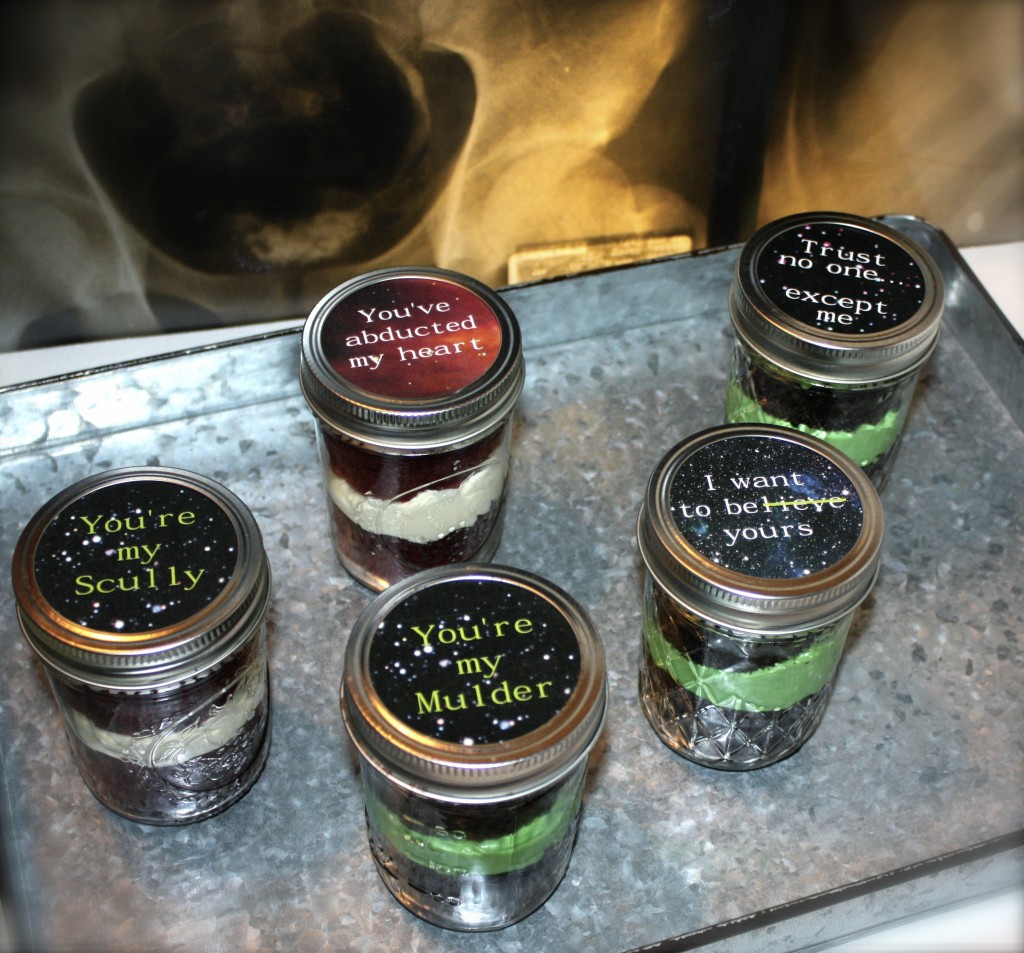 ---
You will need:
Half pint canning jars such as Ball,  as many as you would like to make.
Cupcakes.  Either homemade from your favorite recipe, made from a cake mix following the instructions on the box or store bought.
Icing. Can be either homemade from your favorite recipe or your favorite store brand.  If you're using pre-made cupcakes that you purchased, you don't need additional icing.
A decorating bag and tip or a large Ziplock or other plastic storage bag.
We started with a list of X-Files themed sayings:
You're my Mulder
You're my Scully
Trust no one… except me
You make me want to believe
You've abducted my heart
I find you sMuldering
I want to believe yours
Valentine, you are smoking hot
Feel free to use these, or come up with some of your own.  If you do, and don't mind sharing them, we would love to hear them in the comment section of this post!
For this particular project we used Duncan Hines cake mixes, Chocolate and signature Red Velvet and Cream Cheese Icing.
Bake the cupcakes following the recipe on the box, or whatever recipe you have decided to use. Even though we will be removing them later, it is still better to bake the cupcakes in wrappers.  We used a mix of different types and colors that we had left over from past projects.
While your cupcakes are cooling, take the bands and lids off your jars and wash them.  Let them dry while you print and cut out your top labels. Feel free to download our labels here: xfiles.
The labels can be printed on whatever type of paper that you prefer- cardstock, full-sheet sticky labels or plain, old copy paper.  We used plain, old copy paper. Then cut around the outside edge.  Don't worry about them being perfect, the bands on the jar lids cover the edge!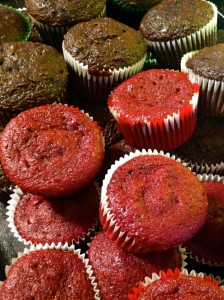 Once the cupcakes are cool, remove the wrappers from the ones you plan on using in the jars.  If you are using store-bought cupcakes, remove the papers from these as well since the cupcakes will be eaten directly from the jars. Each jar should take about two cupcakes.
Once the papers have been removed, start by putting your first layer into the jars.
Right side up, upside down… there's no special instructions here other then to push them into the bottoms of the jars.  If you're using just-baked, icing-less cupcakes- smoosh away!  If you're using the already pretty and completely finished type from the store, you're going to have to be a bit more careful here and drop them in.
Once all of the bottom layers are in the jars, it's time to do the first layer of icing. If you are using a decorating bag and tip, we like to use Wilton 12 in. Disposable bags and a star decorating tip.
Of course, almost any decorating tip that you would use to pipe icing on the top of a cupcake is fine.  Also, if you don't have a decorating bag, you can use a plastic storage bag, fill it with icing, cut off one corner and use it just like you would a decorating or pastry bag.
In a pinch, you could probably use a spoon or butter knife here, but it will be harder to get a nice, even layer of icing this way.
Fill your bag with icing, then twist the top closed and slide the icing down towards the tip or the corner of your plastic bag to get rid of air pockets.  Now you're ready to add your first layer of icing!
Start gently piping along the inside of the jar in a circular motion following the edge of the jar around and in toward the center until the entire top of the cupcake is covered.
Now… you want a decent layer of icing, but not too much.  Remember that you're going to need to fit a second cupcake and another layer of icing in there!
Once you are done with your icing, put your next cupcake layer into all of the jars pushing down a bit to give yourself a little more room. If you are using finished store-bought cupcakes, put your second one on top of the first and try to neatly push it down on the first layer so that both cupcakes fit into the jar.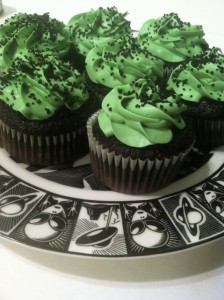 Easily Entertained Tip:  If you find that your second cupcake is too thick and it doesn't look like you are going to have enough room for your top layer of icing- you can trim your cupcake from the bottom and make it a thinner layer.  In fact, you could cut all of your cupcakes in half and do even more alternating layers of thinner cake and icing.  You could even go a little crazy and add other layers of fillings like fruit, pudding, pastry cream or lemon curd. (yay lemon curd!)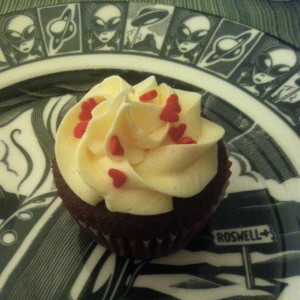 Once all of your layers are in place, top with more icing and if you like, colored sprinkles.  Don't go too high with the icing- you're going to want to leave a tiny bit of space near the lip of the jar so that you can get your lids back on.
As for the lids… there are a few ways to do this.  We used to stick the images to the jar lids. You can do this if you like, and it's really pretty easy if you chose to print your image out on full-sheet sticky labels.   In that case, cut out your circles, peel off the backing and stick them to the top silver parts of the lids.
If you are using cardstock or copy paper you can simply place the lids on your jars, the paper circles on top of the lids and then hold them in place when you put on the final bands of the jars.  You may need to hold them centered in place as you turn the bands, but once they are on there, they will hold the labels tightly in place.  And then the person you gave them to has a nice, unsullied jar to keep after they've eaten their cupcake.
Happy Valentine's Day!