Celebrate the infinite nature of Pi, with infinite calories. Ok, not infinite, but still… it's pretty damn bad for you!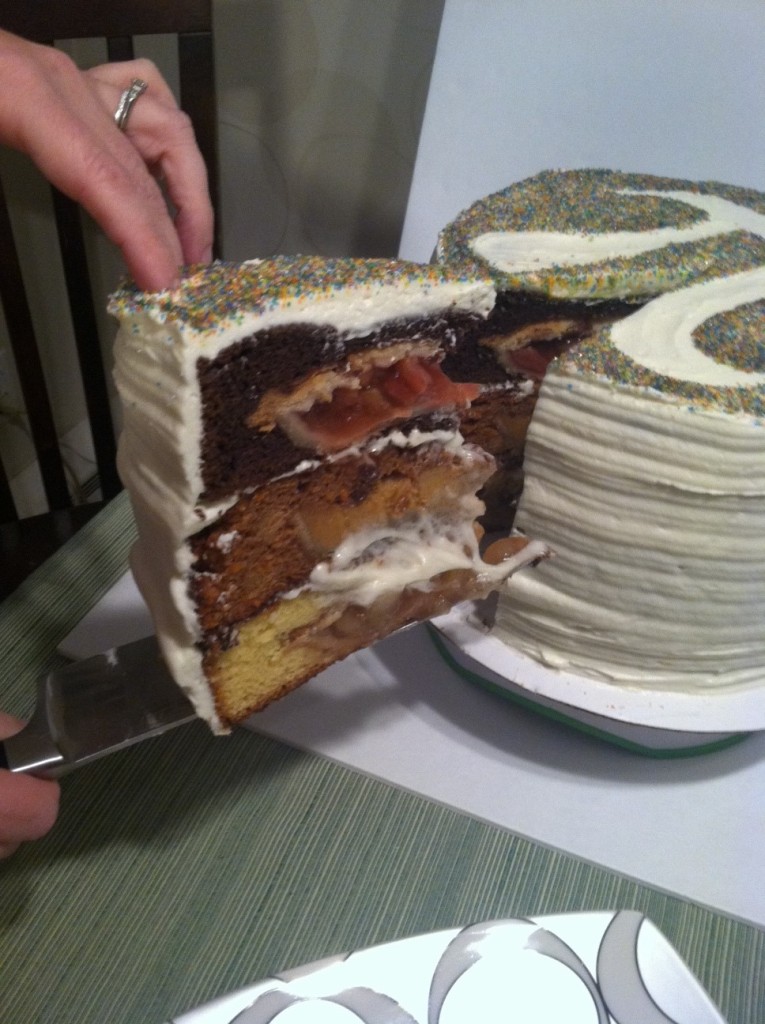 This Pi day, enjoy some cake.  Well, some cake… filled with pie.  3 in fact.  3 cakes. 3 pies: chocolate cake with rhubarb strawberry pie, carrot cake with pumpkin pie and vanilla cake with apple pie. All piled high and held in place with a glorious amount of cream cheese icing.
It doesn't take a mathematical genius to see this is headed somewhere delicious.
Now, we didn't invent this epic bakery creation.  That glory goes to this man, Charles Phoenix.
He's our new idol!  And his recipe and instructions are as easy to follow as they are entertaining. When we read the part about serving this monster creation ala flambé, we knew we could never compare.  But still… we were intrigued and fascinated and just had to try it for ourselves.
Our flavors differ from his based on our own personal preferences and need for rhubarb.  The great part about this recipe is that you can do just about any combination that you like.
Keep in mind that each pie-filled cake layer takes about an hour to cook and even longer to cool.
---
To make the Rhupumple-piecaken-monsterpi you will need:
3 cake mixes in the flavors of your choice
The eggs, oil and water required on the box of your mixes
3 pies (we purchased ours from the bakery section of our local supermarket.)
Pam Baking Spray
10" springform pan
To make the cream cheese frosting you will need:
3 (8-ounce) package cream cheese, softened
1.5 cup butter or margarine, softened
3 (16-ounce) package powdered sugar
3 teaspoons vanilla extract
---
Preheat your oven to 350 degrees.
First, turn the bottom of your springform pan upside down so that you have a flatter surface. Then spray your springform pan well with pam and put it aside.
Mix your first cake mix by following the instructions on the package. And pour a small amount of batter into the bottom of the pan.
Carefully remove the metal pie plate from the bottom of your first pie.  We did this easily by placing the pie upside down on a plate and gently pulling off the foil tray. Then place the entire pie, right side up, in the cake pan directly in the batter.
Before pouring the rest of your batter in and around the pie, use a knife to cut a few slits into the top.  This way, a little bit of the batter will go inside instead of crushing the delicate top of the pie.
Pour the rest of the batter over the pie.  Don't worry if it looks like there isn't enough batter.  It won't fully cover the pie.  The magic will happen in the oven as the cake starts to rise.
Once you have poured in all the batter, tap the pan on the counter a few times.  This will get rid of any air bubbles and help the batter to distribute easily.
Start checking your cake for doneness after an hour.  The times for our layers differed slightly with each cake/pie combo, but all fell within an hour to an hour and 15 minute timeframe.  For this recipe its better to slightly over bake your layers than to under cook them.
Take a cake tester or toothpick, and gently insert it into the center of the cake to check for crumbs or uncooked batter.  If the toothpick/tester comes out clean, you're usually good to go.  This project is a little trickier since there is a perpetually gooey pie in the center of your cake.  In this case, your main concern is to make sure that the center of your pie is not jiggly.  It should have a rounded or even appearance and not be sunken in.
Easily Entertained tip: We suggest cooking each layer separately.  This is true of all baked goods.  The more things you put into your oven at the same time, the longer and possibly more uneven your results will be.  If you do choose to bake more than one layer at a time, you may want to switch their positions on the oven rack about halfway though the baking time.
When your layers are finished baking, put them on a metal rack to cool.  If you want them cool even faster, remove the side of the pan after 5-10mins.
---
While the layers bake and cool, you can make your frosting.
This is a large batch recipe and will make more than enough icing to fill, cover and decorate your cake.  Chances are you will even have a little bit left over.
Beat cream cheese and butter at medium-low speed with an electric mixer until smooth. Gradually add sugar, beating at low speed until blended. Stir in vanilla. Increase speed to medium-high, and beat 5-7 minutes or until fluffy.
We left our frosting white, but you could easily add any color of gel food coloring during this step.
---
To assemble the cake:
First, you need to level the tops of your cakes.  We were lucky and our layers came out of the oven nice and flat.  If you do need to trim them, the easiest way, is to put the ring back around your pan and use that as a guide.
Once all of your layers are trimmed, you are ready to start stacking them.  Begin by putting your first layer down on a plate or cake board and spread a layer of icing on top.  Then, and you may need a buddy for this part, carefully add the next layer on top of the first.  Then more icing and repeat with the last layer.
Depending on how much icing you used in between, your layers may slide round a little bit here.  Use your hands on the sides to push all the layers back into place and finish icing and decorating your cake any way you like.
You could serve this immediately, but we suggest putting it into the fridge first to chill.  This will allow your icing to set up and make for a more stable cake.  This step is especially necessary if you plan to transport your masterpiece across state lines. Or, you know… over to your favorite mathematician's house.
Happy Pi Day!!