This Mother's Day, go medieval! And surprise your mom with the mother of all brunches.
With this Game of Thrones themed brunch, you can treat your mother like a queen.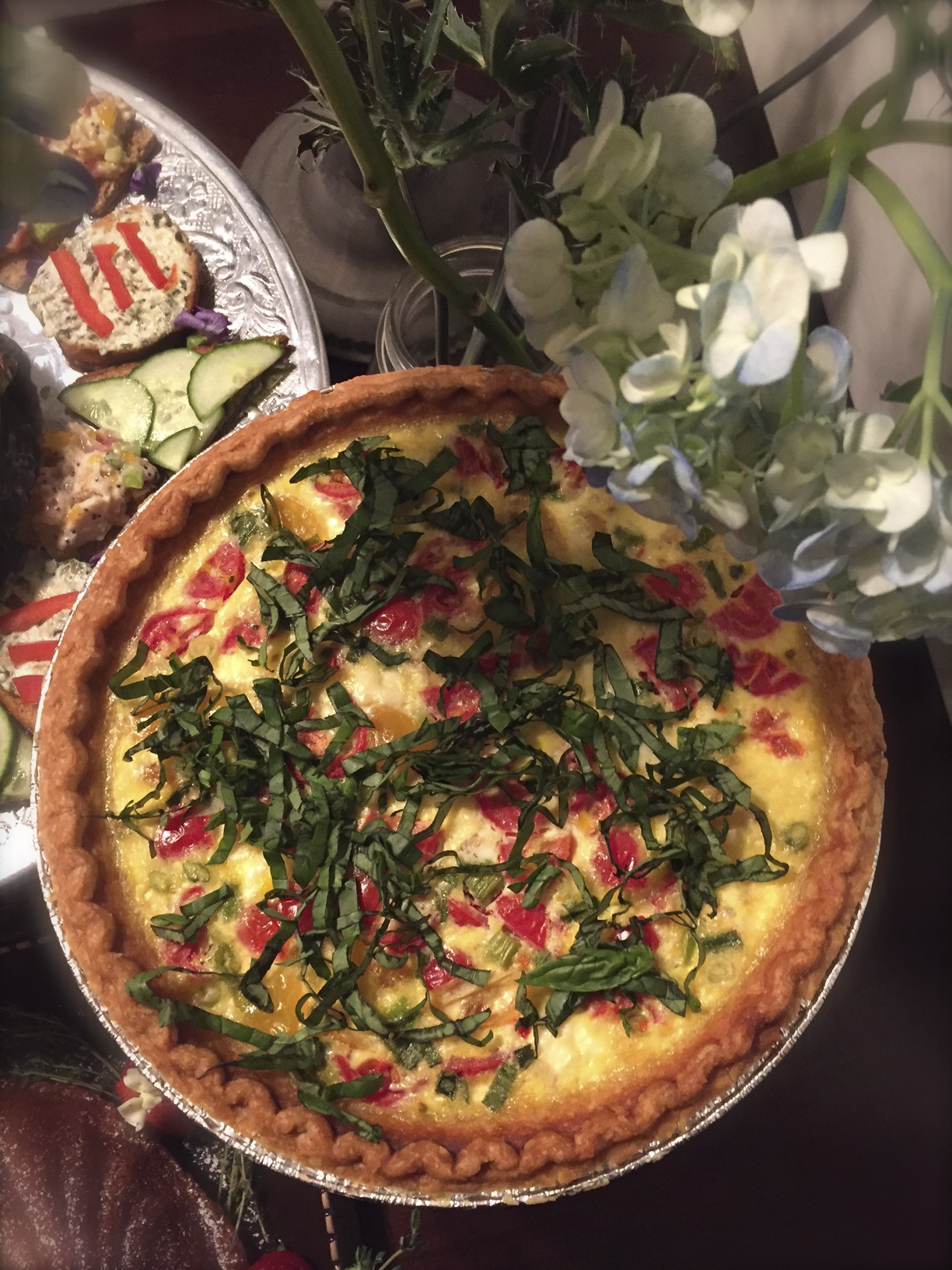 Every brunch needs a quiche! THIS quiche. Goat cheese and heirloom tomatoes combine for one of the tastiest, creamiest quiches ever.  Easy and elegant, your mom will think you slaved all day.
---
To make the Goat Cheese Heirloom Tomato Quiche you will need:
1 store bought refrigerated or frozen piecrust, or your favorite recipe. We used a frozen, deep-dish piecrust.
1 tablespoon olive oil
4 green onions, chopped
5 large eggs
1-¾ cup of the milk of your choice.  We used 2%.
1 cup of mixed heirloom tomatoes, diced
¼ teaspoon of salt
4 ounces of plain goat cheese
Fresh basil, for garnish
Heat oven to 375 F.
Bake the piecrust according to package directions for a pre-baked pie shell.
Heat olive in a frying pan over medium heat. Add green onions and sauté, stirring for about 5 minutes. Remove from heat.
Meanwhile, whisk together the eggs in a large bowl. Add milk and continue to whisk until smooth.
Stir in tomatoes, green onions, and salt and then crumble in the goat cheese so that some chunks will remain in the egg mixture. Stir to combine.
Carefully pour the mixture into the pre-baked piecrust.
Bake for 30-35 minutes, or until edges are brown but the center is set.
Remove from oven and let cool to room temperature before serving.
Garnish with fresh basil.  This recipe was adapted from Good Housekeeping.
---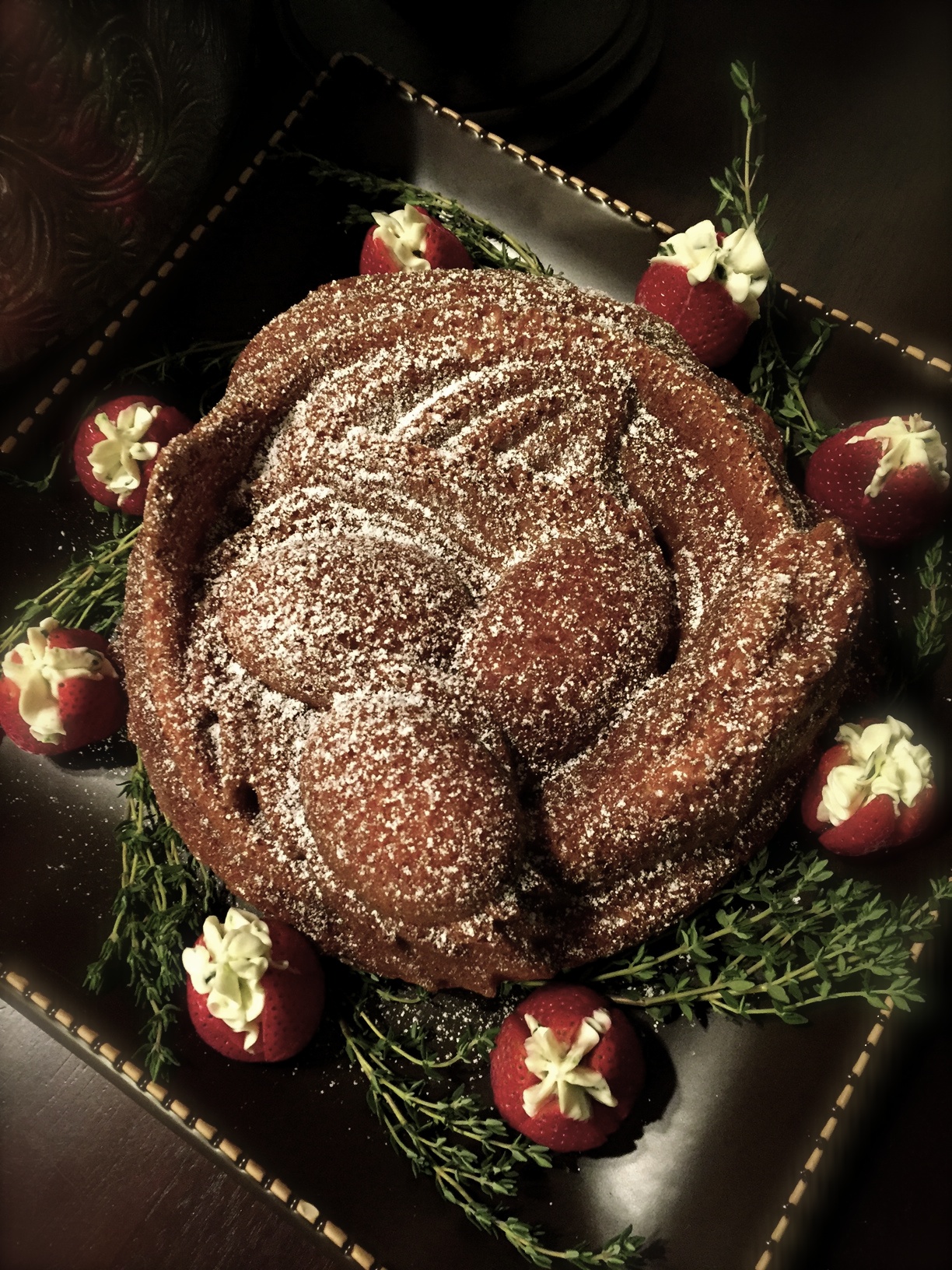 To make the Sour Cream Dragon Cake you will need:
 3 cups sugar
1 cup butter
6 eggs, separated
2 teaspoons vanilla
1 tablespoon fresh lemon juice
1 cup sour cream
3 cups all-purpose flour
1/4 teaspoon baking soda
1/4 teaspoon salt
Baking spray or butter and flour to grease dragon pan
Or your favorite box mix
Heat oven to 350 F.
For cake mix, follow instructions on the box.
For the home made recipe- cream together the sugar and butter, then add the egg yolks one at time beating well after each addition. Blend in the vanilla, lemon juice and sour cream.
In a separate bowl, whisk together the flour, salt, and baking soda, then add to the batter mixture and beat well.
In a separate bowl, beat the egg whites until stiff peaks form, then fold them into the cake batter.
Pour into a greased and floured dragon pan and bake for an hour and a half or until the cake test done in the center.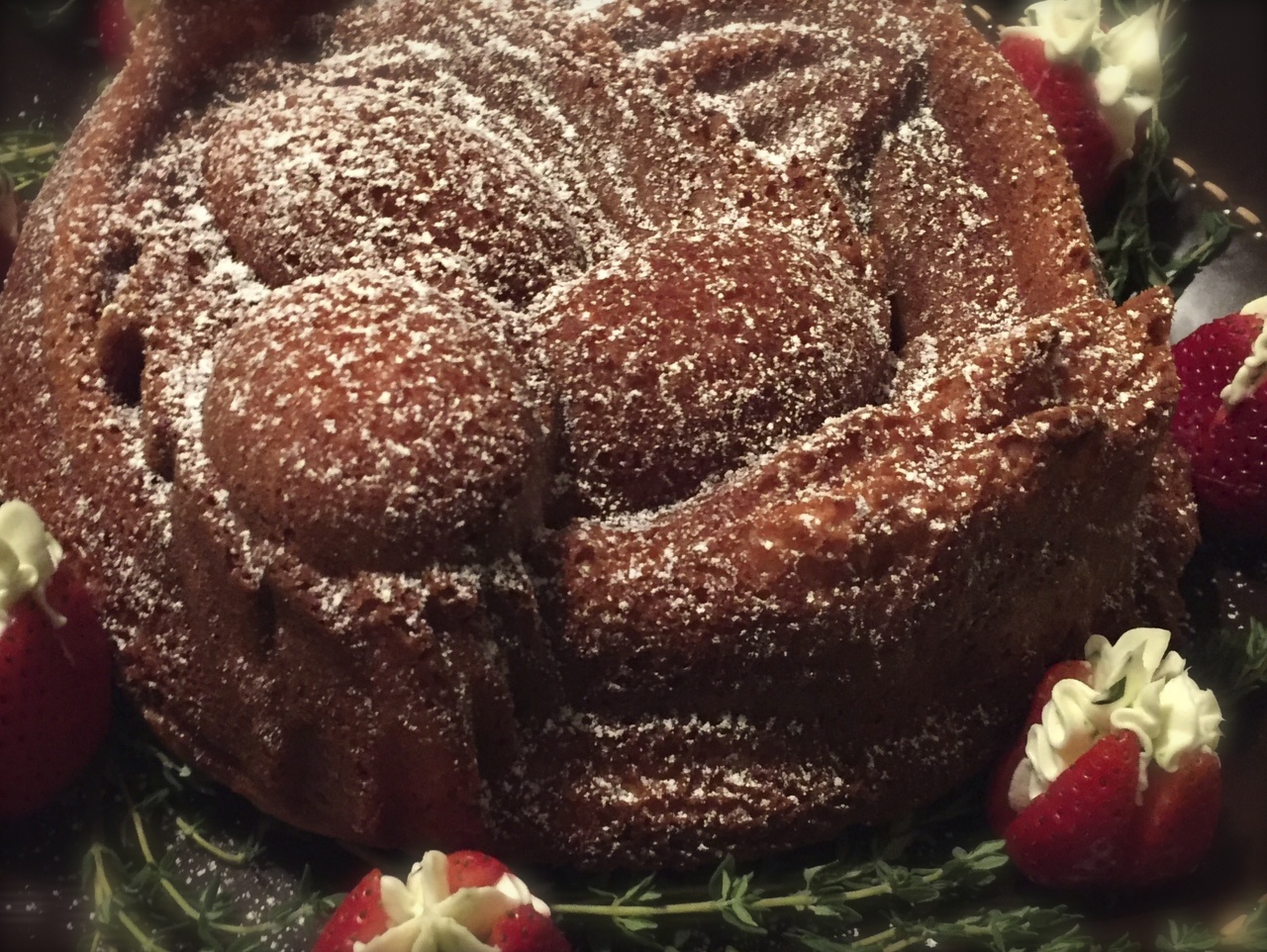 To make the Basil Cream Cheese-Filled Strawberry Dragon Eggs you will need:
1 (8-ounce) package of cream cheese at room temperature. (You could also use the same amount of mascarpone cheese)
2 tablespoons confectioners' sugar
1 tablespoon minced fresh basil
1 teaspoon fresh lime zest
2 teaspoons fresh lime juice
About 20 large strawberries. Look for ones that can stand up on their own when placed flat on their stems.  Do not remove the green leaves.
In a small bowl, combine cheese, confectioners' sugar, basil, lime zest, and lime juice, stirring until smooth and creamy. Set aside.
Stand strawberries on their stems/leaves.
Use a paring knife to make 2 intersecting cuts in each strawberry, keeping base in tact. On each quarter of strawberry, make a small cut, angling the knife slightly inward.
Transfer cheese mixture to a piping bag fitted with an open-star tip (Wilton #32). Pipe cheese mixture into center of each strawberry.
Refrigerate until ready to serve. To serve, place strawberry eggs around your dragon cake.
---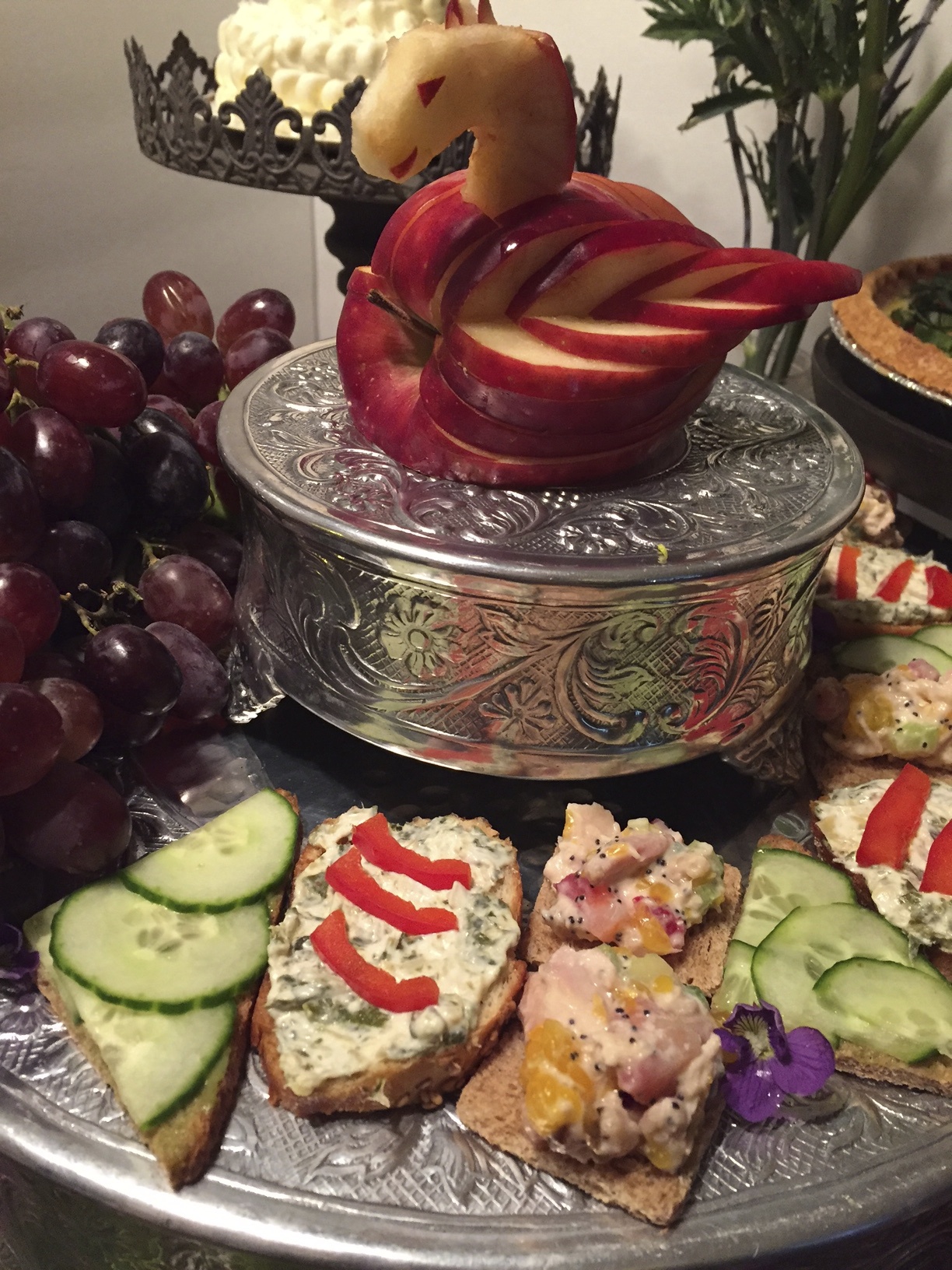 No Game of Thrones brunch would be complete without some Littlefinger sandwiches. We chose a trio of tastes including a fruity spin on chicken salad a matcha tea based cucumber sandwich and a warm creamy spinach artichoke dip. And no spread is complete without your very own apple dragon.
---
To make the dragon you will need:
1 apple (a few extras won't hurt in case of mistakes)
Lemon Juice
A good pairing knife
This video
A lot of patience and practice!!
---
To make the Strawberry Chicken Salad Tea Sandwiches you will need:
12 slices firm white sandwich bread, such as Pepperidge Farm Farmhouse Style
2½ cups chopped cooked chicken. We used a rotisserie chicken from the super market.
1 cup chopped strawberries
½ cup chopped toasted walnuts
⅓ cup chopped celery
¼ cup chopped green onion
An 11-ounce can of mandarin oranges, drained and chopped
Poppy Seed Dressing
In a large bowl, combine chicken, strawberries, pecans, celery, green onion, mandarin oranges, and Poppy Seed Dressing and mix. Refrigerate until ready to use.
Using a 2 inch square cutter, cut 2 squares from each bread slice. If cutting your bread in advance, store in a resealable plastic bag so they don't dry out. You could also trim the crusts off your bread and use a knife to cut each slice into 4 square pieces.
Place approximately 2 tablespoons of chicken salad on a bread square. We left ours open-faced, but you could ass a top layer of bread if you prefer. Repeat with remaining bread squares and chicken salad.
---
To make the Poppy Seed Dressing you will need:
½ cup mayonnaise. We used Hellman's
1 tablespoon of white balsamic or rice vinegar
2 teaspoons poppy seeds
2 teaspoons sugar
¼ teaspoon salt
⅛ teaspoon ground black pepper
In a small bowl, combine mayonnaise, vinegar, poppy seeds, sugar, salt and pepper, whisking to blend.
Cover and refrigerate until needed. Dressing can be made a day in advance and refrigerated.
---
To make the Cucumber Sandwiches with Matcha Aioli you will need:
1 English cucumber
6 slices of very thin, firm bread.  We used Pepperidge Farm thin wheat.
Matcha aioli
Cut the crusts off and cut the bread slices into triangles. Store them in a resealable bag until ready to use.
Using either a knife or a mandolin, cut the cucumber into paper thin slices.
Spread matcha aioli onto bread triangles and top with a layer of cucumber slices, overlapping them slightly. Top with another bread triangle.
---
To make the matcha aioli you will need:
1/3 cup of mayonnaise
1 teaspoon of finely chopped capers
1 teaspoon of lemon zest
1/4  teaspoon of matcha green tea
¼ teaspoon of salt
1/8 of a teaspoon of ground black pepper
In a small bowl combine mayonnaise, capers, lemon zest, matcha, salt and pepper and stir until blended and smooth.  Store in a covered container in the refrigerator for up to a day.
Easily Entertained tip: All of your tea sandwiches can be made earlier in the day, covered with damp paper towels in an airtight container, and refrigerated until serving time. Garnish them just before serving.
To make the Artichoke Spinach Crostini you will need:
1 teaspoon of olive oil
1 (6 oz.) bag of fresh baby spinach, chopped
9 oz. of jarred artichoke hearts, drained and chopped
1 tablespoon of salted butter
¼ cup of thinly sliced shallot
5 oz. of cream cheese, softened
¾ of a cup of freshly grated Parmesan cheese
¼ cup of mayonnaise
¼ cup of sour cream
½ teaspoon of salt
¼ teaspoon of ground black pepper
24 crostini
Red bell pepper for garnish
Heat oven to 350 F.
Lightly spray a baking dish with cooking spray or rub it with oil.
In a large, non-stick sauté pan, heat olive oil over medium high heat, add spinach, shallots and artichoke hearts and stir until spinach is wilted.
In a food processor combine cream cheese, Parmesan cheese, mayonnaise, sour cream, salt and pepper. Add the spinach mixture and pulse until combined.
Spread mixture into prepared baking dish and bake until hot and bubbly around the edged.  About 25 to 30 minutes.
Let cool 10 minutes and spread onto crostini.  Garnish with red bell pepper if desired.
To make crostini: cut a French bread into ¼ inch slices, spray with Pam olive oil spray, salt, pepper and bake for about 10 minutes until golden and toasted.
---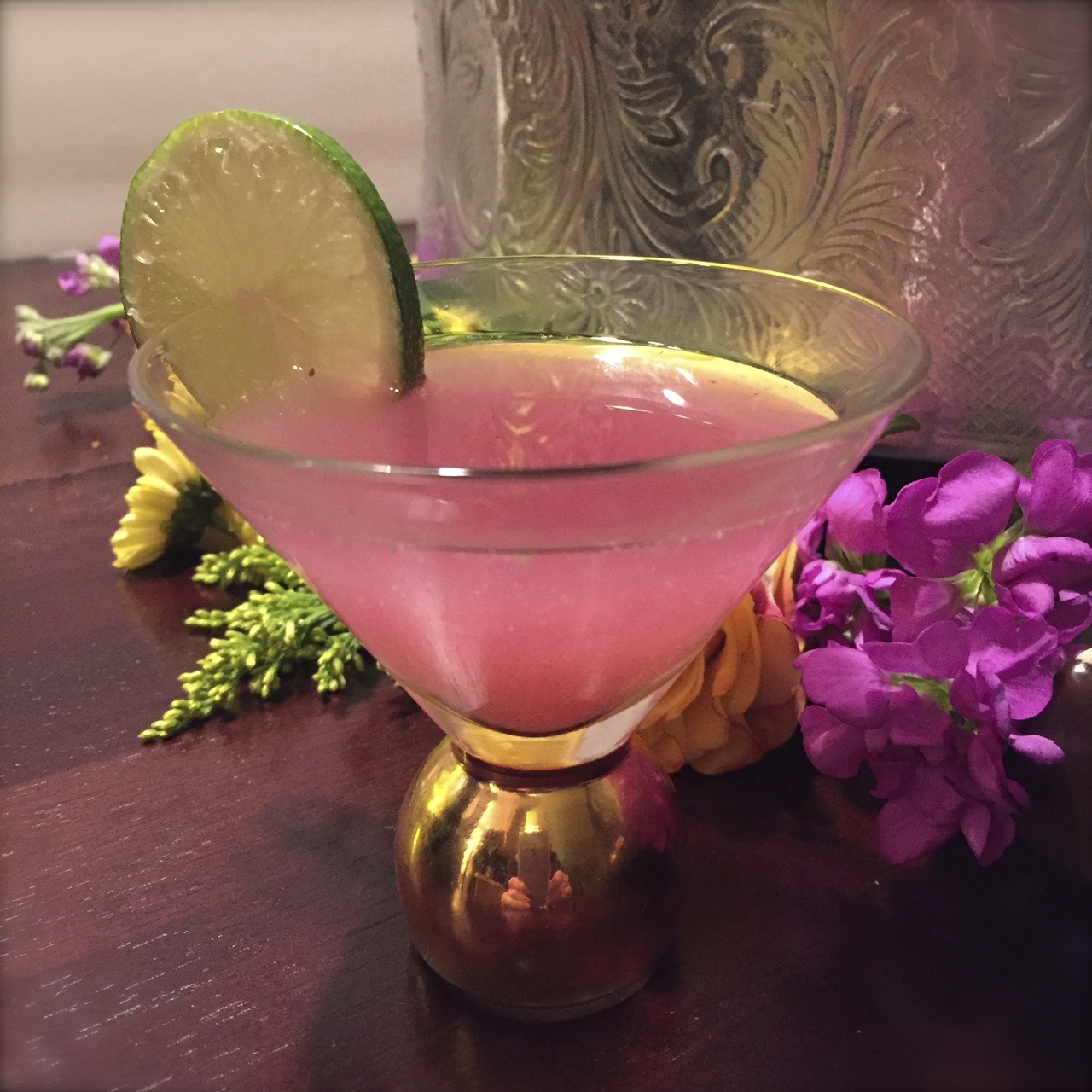 To make the Mother of Dragons cocktail you will need:
2 tablespoons fresh dragon fruit flesh
2 strips dragon fruit skin
12-15 mint leaves
1 tablespoon fresh lime juice
Ice
3 oz Prosecco or other sparkling wine
In the bottom of a cocktail shaker, muddle the dragon fruit flesh and skin, mint leaves, and lime juice until well combined and fragrant. Add the Prosecco and ice to the glass and let sit until it turns pink. Stir and strain into a glass. Garnish with a lime wheel.