Without giving too much away, last night's episode of Game of Thrones showed some seriously strong women kicking some serious butt!
In honor of them both, we have two new cupcake recipes that we hope you will enjoy.
First we have:
Don't Mess With Daenerys Cupcakes
Pale but strong, these vanilla cupcakes have a Fireball Whiskey kick and are adorned with real flames.  Well… real candy flames.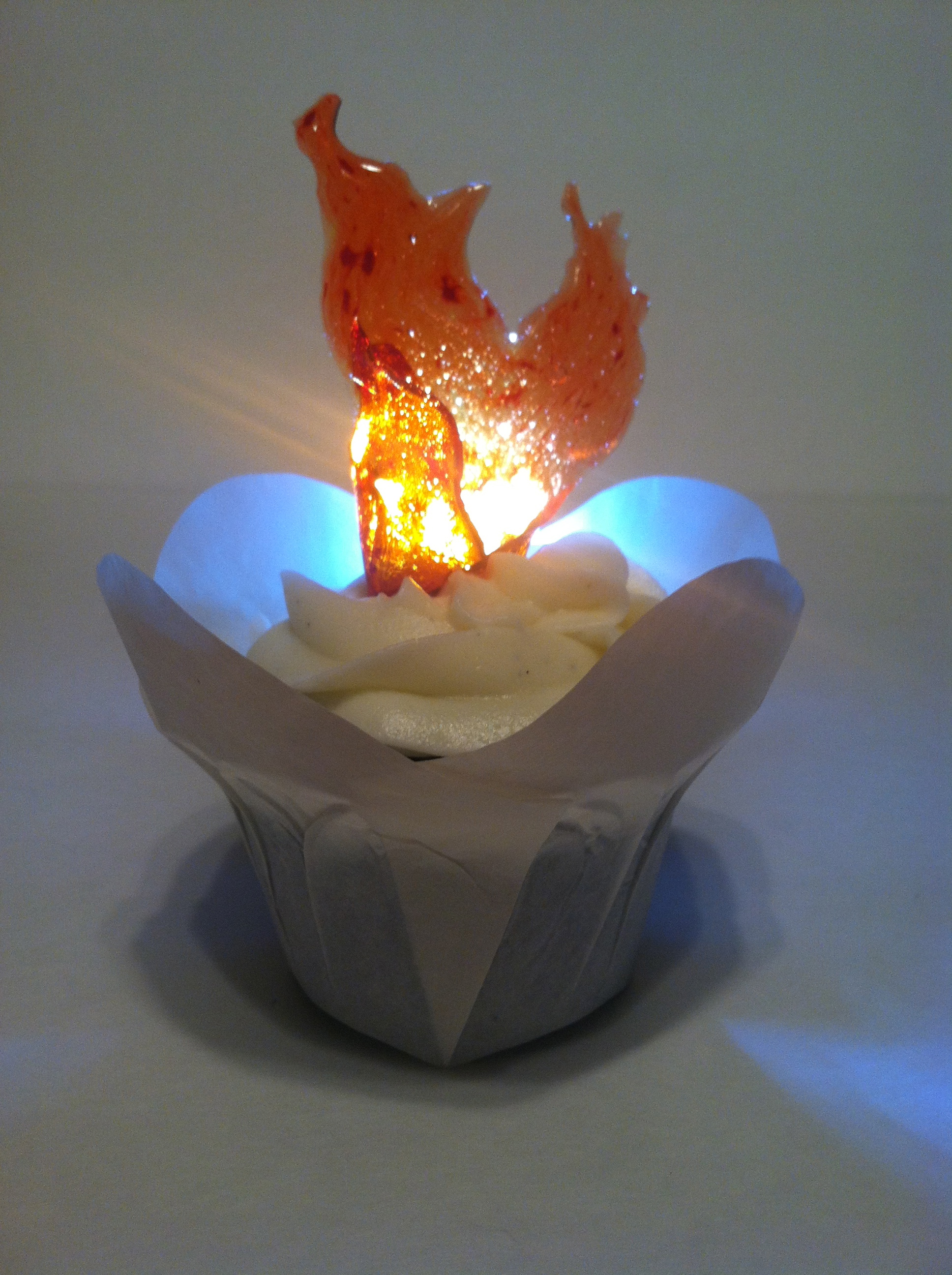 To make these cupcakes you will need:
Vanilla cupcakes.  Made from a cake mix following the instructions on the box, but substituting ¼ of a cup of Fireball Cinnamon Whisky for some of the liquid in the ingredients.
Icing. Can be either homemade from your favorite recipe or your favorite store brand.
Candy Flames
To make the candy flames you will need:
2 cups of granulated sugar
1 cup of water
1/2 teaspoon of cream of tarter
2/3 cup of corn syrup
1/8 teaspoon of red gel food coloring
1 teaspoon of cinnamon flavored candy flavoring
A silicone mat
A medium or large pot
A candy thermometer
A silicone brush
A large glass measuring cup (that holds more than 2 cups)
Place the glass measuring cup in a cold oven, then turn the oven to 275 degrees Fahrenheit.
Mix the sugar and cream of tartar in a separate bowl.
Heat 1 cup water, the corn syrup and the sugar mixture in the pot on medium heat.
Boil the mixture until it reaches 300 degrees Fahrenheit. When the sugar begins to boil, use a pastry brush or silicone brush and a little water, and brush the crystallized sugar off the sides.
Don't put the candy thermometer into the pot until the sugar is boiling.
It will take quite a while for your sugar to get to 300 degrees Fahrenheit, but do not walk away or your sugar might burn. The temperature will move very slowly up the thermometer at first until it reaches about 250 degrees Fahrenheit, and then it will quickly jump up to 300 degrees Fahrenheit.
Remove your pan from the heat and allow it to cool to 275 degrees Fahrenheit. Do stir it, or add anything until it lowers to 275 degrees Fahrenheit.
When it reaches 275 degrees Fahrenheit, add the food coloring and the flavoring and stir it gently. If there is any crystallized sugar on the side of the pan, try to avoid stirring it into to the mixture.
Warning: the flavoring was a bit strong and there was an immediate cinnamon blast when we first dumped it in.  It dissipates quickly, but be ready for it.
Remove the (now very hot!) measuring cup from the oven and pour your even hotter sugar into it. Be very careful. Also- do not pour the hot sugar into your glass measuring cup unless you have heated it first.  If you do not heat it the high temperature of the sugar may cause it to shatter.
Place the measuring cup back into the oven and let it sit for 5-10 minutes to remove the bubbles.
Take the sugar out of the oven and you are now ready to create your flames! The easiest way that we found to make the flames was to use a spoon and draw the flames of sugar on the parchment paper. Then after it was cool to the touch, but still slightly gummy, we twisted it and molded it until we felt we had a perfect flame. We also used a dragon cookie cutter and poured some of the liquid sugar into it and let sit until completely cool. Just make sure to spray the cookie cutter with Pam so the sugar doesn't stick.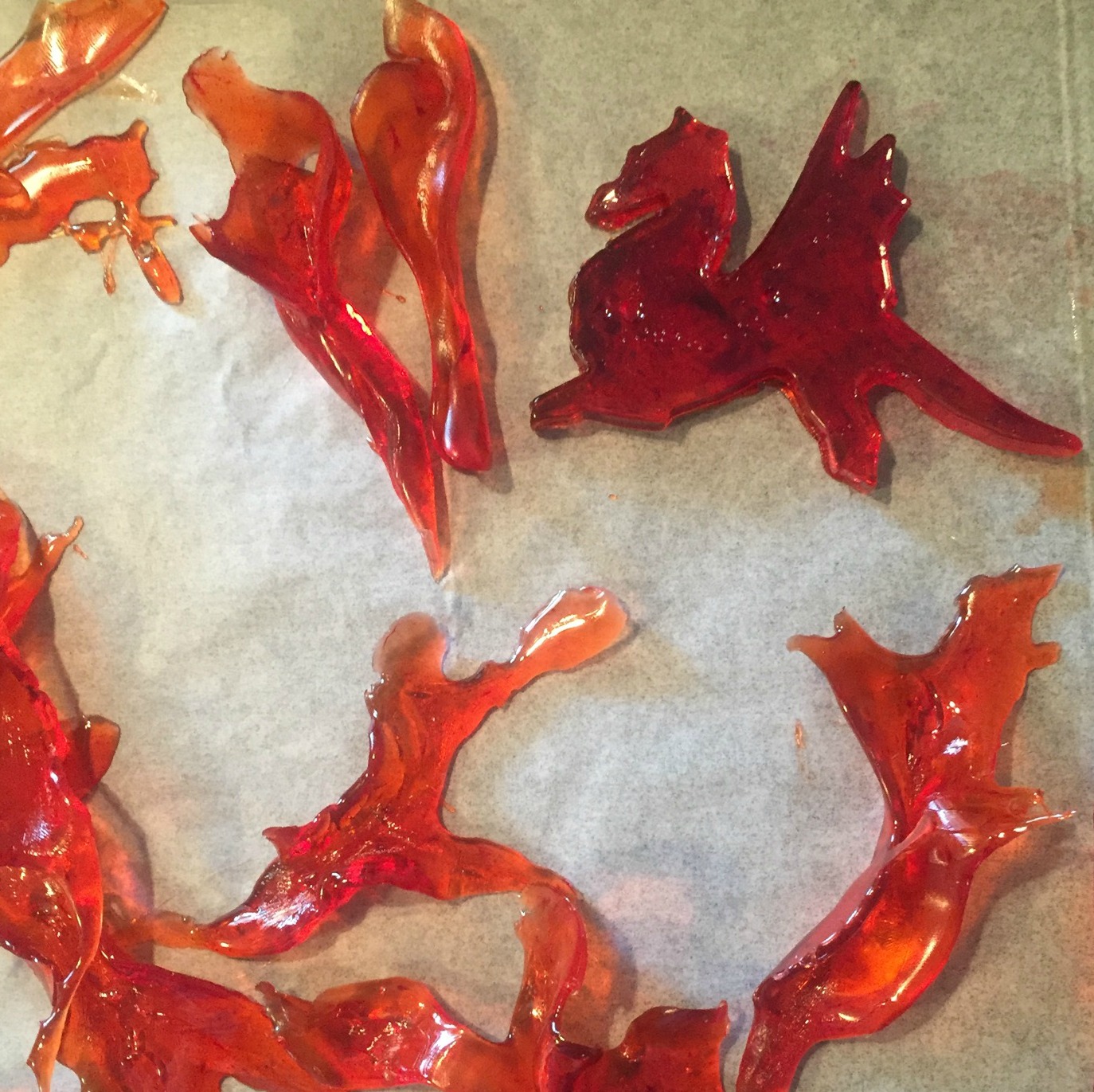 Once your candy flames are finished, stick them into the tops of your cupcakes and serve immediately.
Easily Entertained Tip: If you are planning to make your cupcakes in advance, keep the flames separate until almost ready to serve.  When left over night, the cinnamon flames stared to melt onto the icing and inside of the cupcakes.  The added cinnamon flavor was nice, but the cupcakes weren't as pretty.
---
Next we have:
Sansa's Lemon Cakes
Lovely, with a strong, lemon bite!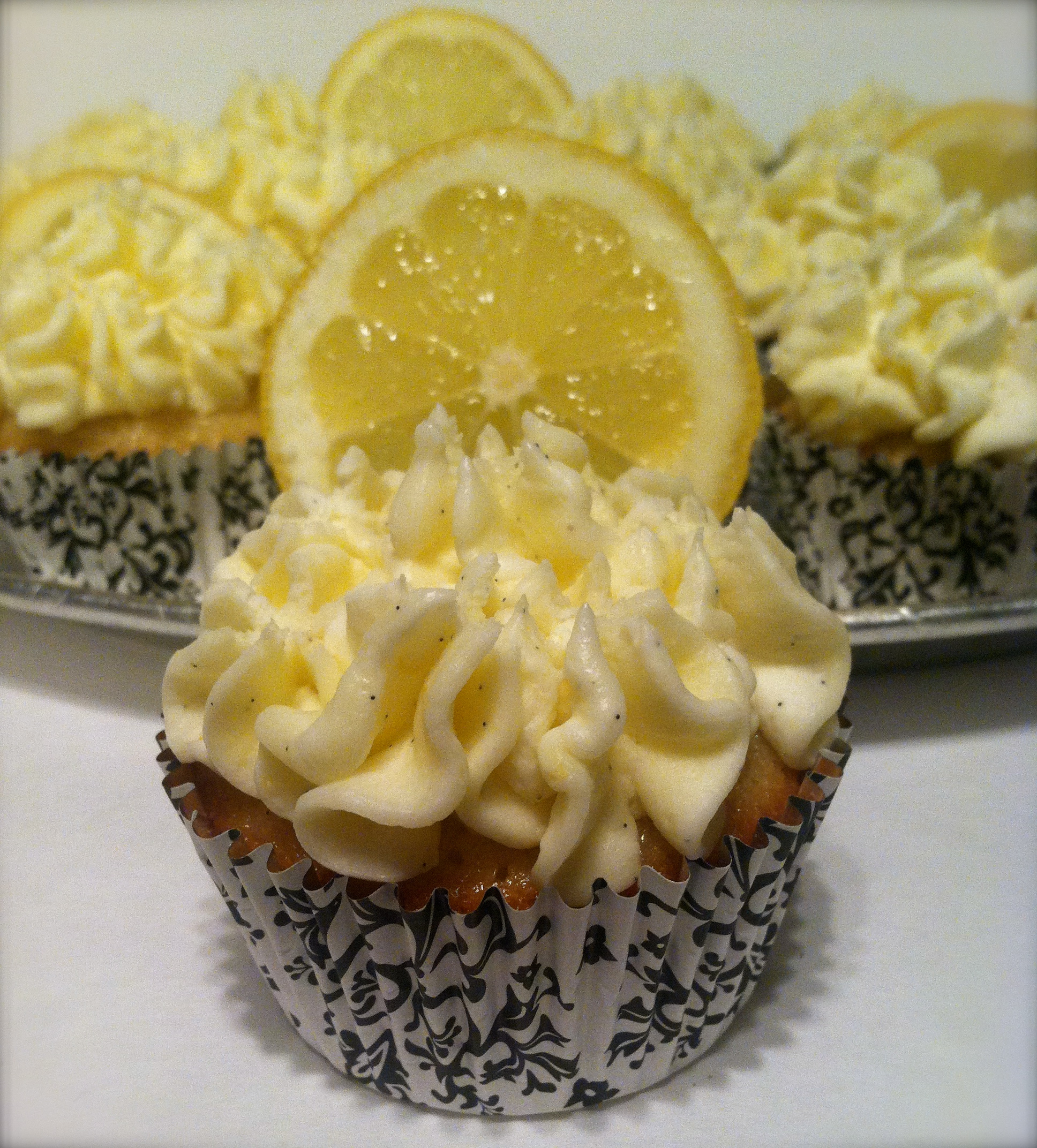 To make this recipe you will need:
1 cup of unsalted butter
1/2 cup of fresh lemon juice
1/2 cup of water
1 1/2 cups of sugar
2 eggs, beaten
1/2 cup of sour cream
2 teaspoons of pure vanilla extract
2 Tablespoons fresh lemon zest
2 cups of flour
3/4 teaspoon of salt
1 1/2 teaspoons of baking soda
Preheat your oven to 350 degrees Fahrenheit.
In a large saucepan melt the butter with the lemon juice and water on medium high heat.
When the butter is melted remove from heat. Add sugar and stir until dissolved.
Add the sour cream (or yogurt), beaten eggs, vanilla extract and lemon zest and whisk together. Let this mixture cool completely before preceding. Make sure it's not warm.
In a separate bowl whisk the flour, salt and baking soda together, then whisk the dry ingredients into the batter.
Prepare muffin pans with cupcake liners. Pour the batter into the cupcake liners 3/4 of the way full.
Bake for 18-20 minutes, until a toothpick inserted into the middle of a cupcake comes out clean.
Do not open the oven until 18 minutes have passed.
Let the cupcakes cool slightly in the pan. Then remove them and let cool completely before frosting.
---
To make the Lemon Buttercream you will need:
1 lb. of unsalted butter at room temperature
1 1/2 lbs of powdered sugar
2 teaspoons of vanilla extract
1 tablespoon fresh lemon zest finely zested with a microplane
1/3 of a cup of fresh lemon juice
Using a stand mixer or an electric hand mixer beat the butter well, about 1 minute.
Add about half of the powdered sugar, the vanilla, lemon zest and juice, and beat on low until incorporated, then on high for about a minute.
Add the rest of the sugar, (start on low again) then increase to high speed and beat until very fluffy, about 3 minutes.  Use immediately to frost your cupcakes. We used an open star tip and piped multiple, tiny stars on the tops of our cupcakes.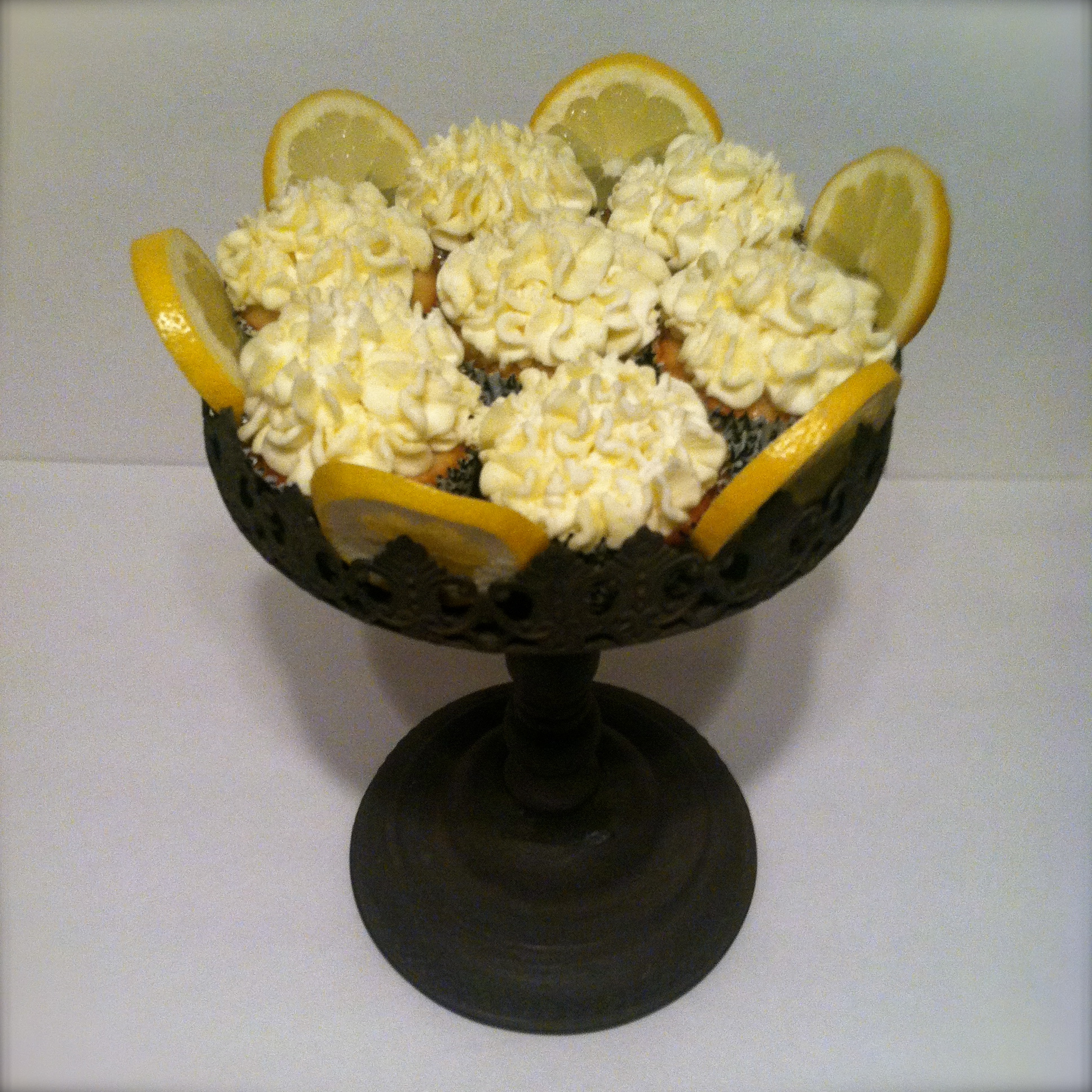 Recipe adapted from, Really Moist Lemon Cupcakes for the Lemon Lover by Melissa aka The Alchemist.