These Things will not bite you.
They want to have fun.

Then, out of the box came Thing Two and Thing One!

-Dr. Seuss. The Cat in the Hat
Or in this case… out of a cupcake box.
And we're pretty sure that you're going to want to bite THEM!
---
Since today is Dr. Seuss' birthday, we are reminded of this Dr. Seuss baby shower- One of the first dessert tables we ever put together.
The menu consisted of:
Vanilla and chocolate Thing 1 and Thing 2 cupcakes
Oreo and peanut butter truffle pops
Blue cotton candy
And trays of homemade Italian cookies (courtesy Jessica's lovely grandmother, Nonna)
The cupcakes were a mix of chocolate and vanilla topped with bright turquoise buttercream.
---
To make these you will need:
Cupcakes.  Either homemade from your favorite recipe, made from a cake mix following the instructions on the box or store bought.
Cupcake liners in your choice of matching colors
Icing. Can be either homemade from your favorite recipe or your favorite store brand.
Wilton Teal icing color
Toothpicks
A decorating bag and your choice of tip or a large Ziplock or other plastic storage bag.
This printable from DigitalDesignsByA
Red Tulip baking cups from Paper Mart
Glue if not using label paper for your design
Bake the cupcakes in the regular cupcake wrappers following the recipe on the box, or whatever recipe you have decided to use.
While your cupcakes are cooling, work on your decorative cupcake wrappers.
The design can be printed on whatever type of paper that you prefer- cardstock, full-sheet sticky labels or plain, old copy paper.  We used plain, old copy paper. Then cut around the outside edge.
Once they are all cut out, (or, if you're lucky enough to have a craft punch of the same size- you can punch them out instead of cutting them), stick (if you printed them on labels), or glue them onto your red tulip cups.
When your cupcakes are cool, you can get them ready to ice.
Start by coloring your icing.  When using the gel type of food coloring remember- less is more.  We like to start with a small amount, stir and then add more if we think it's necessary.  Using one of the toothpicks, scoop out a small amount of gel and add it to your icing.  Use a spoon to give it a good stir and distribute the color.
We want these to be bright teal, so you may need to repeat the process again (and possibly more than that.) with a new toothpick or the other side of your original one.  You never want to put a toothpick that has icing on it back into your gel.
Easily Entertained tip: If you are going to be serving them soon- we find it easier to put the cupcakes into the red wrappers before icing them.  Or if you are making them in advance- you can ice them, put them into the fridge to set up and then drop them into the wrappers before serving.  The point here is, that its harder… and messier to try and get just frosted and squishy cupcakes neatly into the tulip cups.
You can use any decorating tip you prefer.  The main idea here is to pipe the icing nice and high so that you can see it above the red wrapper.
They'll look nice on a platter, cake pedestal or cupcake stand.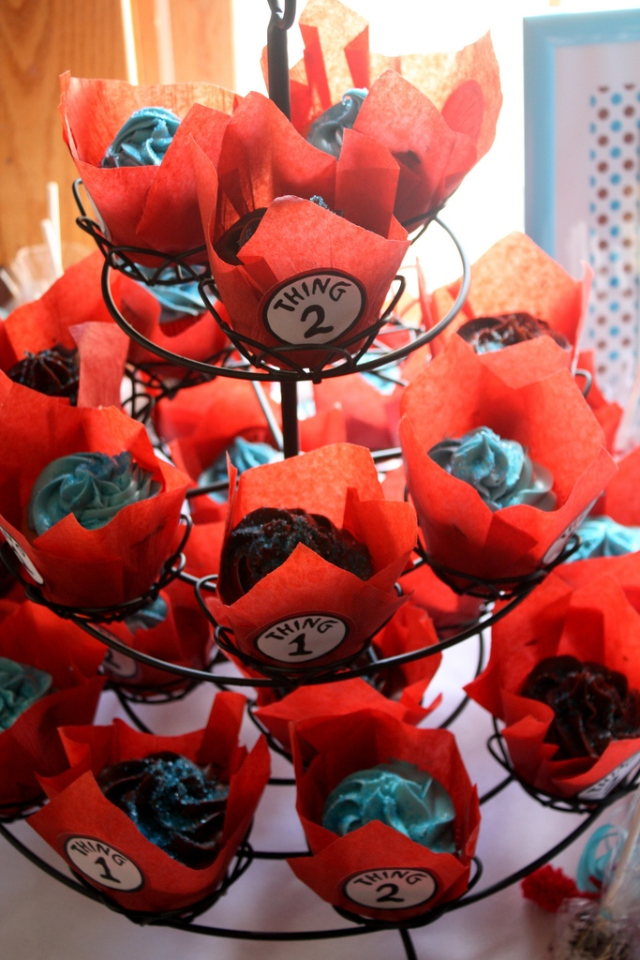 Once they are finished you can eat them any way you like- in a house, with a mouse, on a boat, with a goat, on a train, in the rain… well, you get the idea.
Happy Birthday, Dr. Seuss!!