"I wouldn't have changed a day. Well, maybe the Flukeman thing. I could have lived without that." -Scully

"In The Field Where I Died"
Today's post is a shout-out to both our home state of NJ, and one of our favorite X-files creatures. You can be a good… Host (see what we did there?) if you serve this Flukeman inspired dessert at your finale viewing party.
You will need:
A 3 oz. box of Berry Blue JELL-O
A clear glass bowl
A printout of your favorite Flukeman photo
This recipe is as easy as it gets!  A little bit of boiling water is all you need to begin. Just follow the instructions on the JELL-O package and your Flukeman will soon be floating blissfully in a sea of blue.
1 cup boiling water
1 pkg. (0.3 oz.) JELL-O Berry Blue Gelatin
1 cup cold water
Add boiling water to gelatin mix in medium bowl; stir 2 min. until completely dissolved. Stir in cold water.
Pour into bowl.
Refrigerate 2 hours or until firm.
Now- you can choose to do this one of two ways… in one larger bowl like we did, or in smaller, individual portions.  It all depends on what you are going to serve it in. We got our larger, square-shaped bowl at a local dollar store. Look for one without writing or etching on the bottom.
We weren't quite sure what size Flukeman we were going to use, so we printed out a few options- one 5×7 photo and one 4×6.  It may depend solely on the size bowl that you are using, but we found that both sizes worked well with our square bowl.  In the end, we decided to go for maximum Flukeman and chose the larger photo cropped just to his face.
Cut your Flukeman image to fit on the bottom of your bowl.  You can leave the background intact like we did, or you can cut him out along the outside edge of the image itself.  Use whichever look you like better.
Then, once the JELL-O is firm, you can use a tiny bit of clear, non-toxic glue around the front edge of the image to hold it in place to the bottom of your bowl.  Place the image face up on a table or countertop, and put a small amount of glue around the edge.
Easily Entertained tip: Look through the bottom of the bowl to see where your Flukeman looks best. When you are happy with his placement, press the bowl down on top of the image and let it sit for a few minuets until your glue has a chance to dry.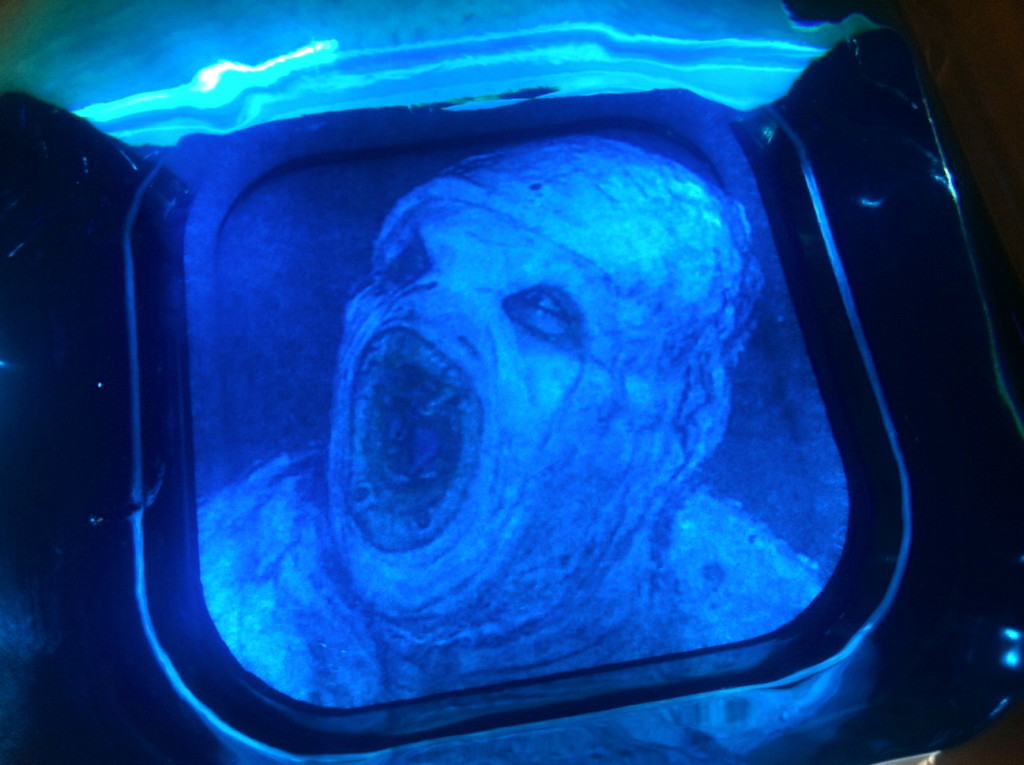 Hopefully at this point, your friends and fellow x-philes will applaud your ingenuity for taking one of the series grossest creatures and turning it into a delicious dessert. Huzzah!